The Sella Group can be tackled on skis in winter and by mountain bike in the summer months - Skiing and mountain biking in the Dolomites
The Sella Ronda is one of the most famous and beautiful ski resorts and most popular mountain bike tours in the Dolomites.
The opening of the lifts in the Dolomites and Sellaronda (cold weather permitting) is scheduled for 25.11.2023.
Even back in the days when there were few roads and before any lift facilities existed, the Sella Group could be navigated on skis. This route, which connects the inhabitants of the surrounding Dolomite regions of Val Gardena, Val Badia, Arabba and Val di Fassa over four passes, was already known as the "Sellaronda" in the Ladin language spoken here. Even today, the name means the circumnavigation of the Sella Massif on skis or by mountain bike in the summer months.
In winter, the Sella Ronda is a unique ski carousel with well-connected ski lifts and runs in the midst of an extraordinary ensemble of forests, rocky mountain peaks and snow covered landscapes of the UNESCO Dolomites World Heritage Site. It is easy to get on the Sella Ronda. Simply reach one of the 4 main starting points located around the Sella: Selva Gardena, Corvara, Canazei or Arabba.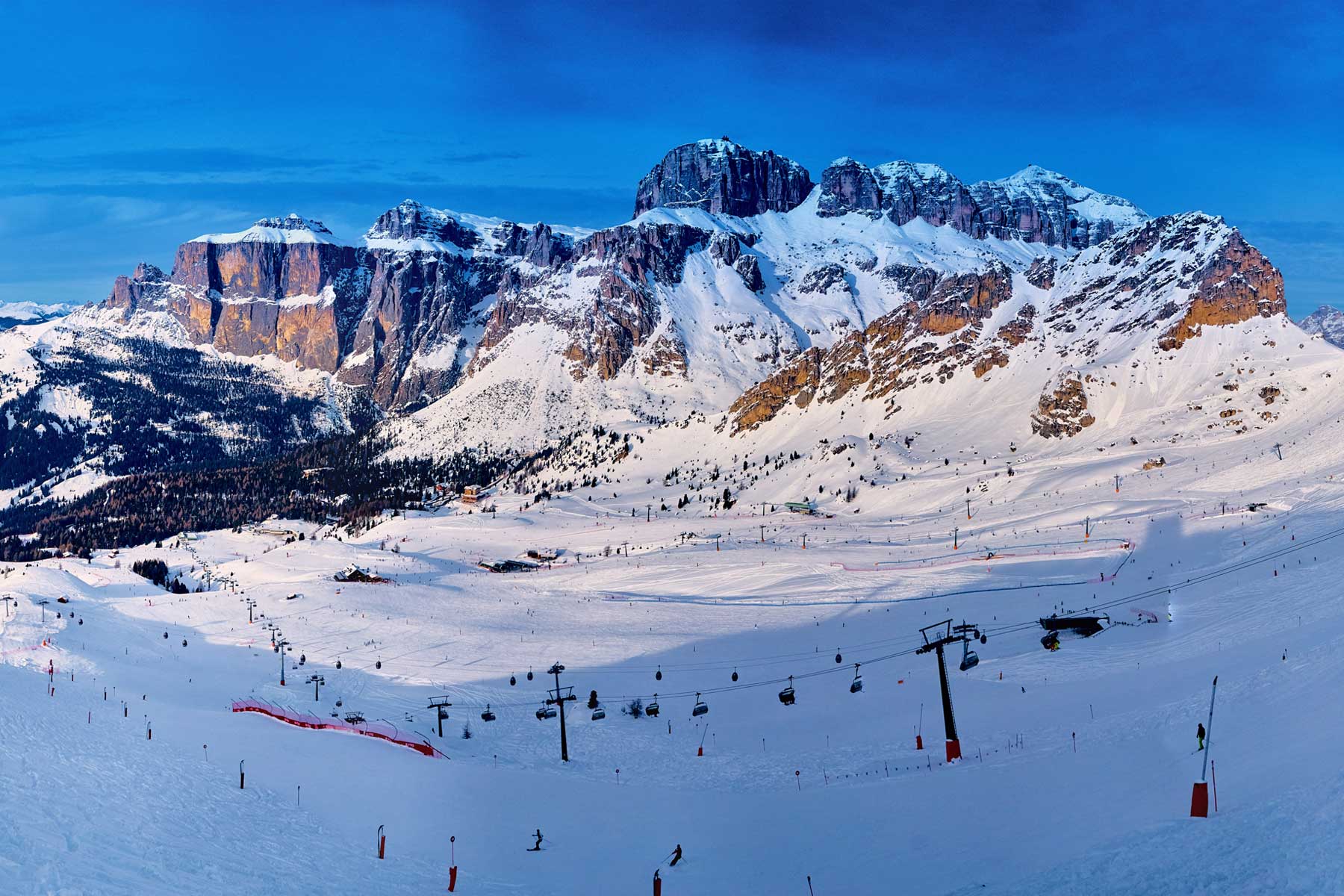 The entire Sella Ronda covers a total of 40 kilometres including lifts and slopes. The slopes do not pose any particular challenges and can be navigated by intermediate skiers without a problem. However, it does require a reasonable level of fitness as the complete round trip can take around 6 hours, depending on ability. You should factor in about 2 hours for lift ascents, this is without including possible time spent waiting at the lifts or stops at the cosy huts and first-class restaurants dotted along the way. It is therefore advisable to start the Sella Ronda before 10 am. It is also very important to cross the last pass before 3.30 pm to avoid the risk of the lifts closing before you have reached the end. Also factor in a total of 2 hours for descents.
In the summer, the Sella Ronda is mountain bike heaven. It can be ridden clockwise or anti-clockwise and offers breathtaking views of the unique peaks of the Dolomites as well as challenging trails. Each summer, the annual Sellaronda Hero Südtirol Dolomites Race takes place, the toughest MTB race in Europe. An absolute must for all mountain bike enthusiasts.